Outside of our drop-in schedule, we are offering a variety of one-day workshops as well as pre-registered classes available over several weeks. Please call (780) 432-1535 to sign up or come on in and talk to one of our ambassadors. NEW - Sign up Online!
---
Dates: Saturdays March 17 & 24
Time: 12:30pm-2pm
Guest Teacher: Michelle Van Slyke
Cost: $35 for 1, or $70 for both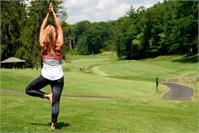 Join Michelle Van Slyke, certified Yoga for Golfers (YFG) instructor and PGA of Canada Golf Professional for this powerful workshop that applies yoga based physical and mental conditioning to the biomechanics of the golf swing.

This is a dynamic, hands on, golf performance workshop designed to increase distance, power, focus, confidence and vitality.

>Increase flexibility and therefore range of motion
>Improve your posture, the foundation of the golf swing
>Improve your breathing and focus to enhance overall performance
>Learn a dynamic warm-up so you play your best right from the first tee
>Extend your body's ability to play so you can play better, longer and with more confidence and increased enjoyment

This is a 2-part workshop on Saturday March 17 & Saturday March 24. Attend one on its own, or both for greater knowledge and benefit. Each workshop will have a different focus and different tips to help enhance your golf game.
---
Date: Sunday March 18
Time: 2pm-4pm
Guest Teacher and Author: Adrienne Arlen Duffy
Cost: Free
Adrienne Arlen Duffy wrote Soul Sense – your breakthrough to soul-full living and leadership, based on her 30-year experience engaging with individuals that were sensing a deep desire for a further connection with Self – a Soul Call.
In this special workshop, which is also the official book launch for Soul Sense, Adrienne will walk you through the three elements of what so many of us are striving toward, in a way that is both practical and illuminating.
Understanding your Soul Call, Soul Fire and Soul Care will not only help you evolve in the way you approach your daily efforts, but how you inhabit and claim all facets of your life.
After learning about Soul Sense and workshopping the concepts presented in the book, Kris Elaschuk will lead you through a sound experience that will illuminate your Soul Self, and allow you to feel the deep connection with that inner illumination.
Since opening, Adrienne has made Bliss Yoga Spa an integral part of her Soul-Care. She is overjoyed at the opportunity to bring a Soul Sense mini-workshop to the members of the Bliss community!
The class will be followed by a reception and book signing in the Yoga Lounge.
Adrienne Arlen Duffy is the owner and co-founder of Big Futures Inc., an innovative leadership coach and consultant who works both locally in Edmonton and internationally, helping individuals, entrepreneurs, corporations, and non-profit organizations achieve greater results and more fulfilling success. With her unique approach, she focuses on vision, strategy, and accountability – but to that powerful mix, she adds what she has found to be an essential ingredient: Soul Sense.
---
Teacher: Raluca
Date: Saturday March 24
Time: 2:30pm-4:30pm
Cost: $45+tax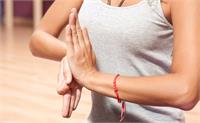 In today's device-centric society, whether it be for work or pleasure, sitting at a computer has been and continues to be an ever-growing part of everyday life. If you do repetitive work, whether its typing on a keyboard all day, pouring espresso shots, cutting hair, or operating heavy machinery, you might be at risk of repetitive strain injuries like Carpal Tunnel Syndrome. Tiny injuries due to repetitive movements can lead to inflammation and damage the muscles, nerves and tendons resulting in pain and discomfort in the wrists. It is never to late to prevent or reverse the damaging effect of overuse and stop symptoms of pain, fatigue, weak grip or tingling to get to chronic stages.
In this workshop, Bliss RMT Raluca will offer self-massage techniques, trigger point release, stretches and loads of information to support your wrist health. This workshop is open to those suffering from carpal tunnel, those who experience wrist pain in yoga, as well as those who are at risk for carpal tunnel syndrome.

This is a 2-hour workshop for $45.
---
Date: Sunday March 25
Time: 1:30pm-4pm
Teachers: Jess Starrie & RMT Raluca Sacalean
Cost: $55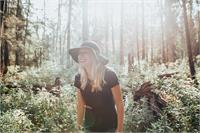 Headaches & migraines are one of the most common ailments we suffer with, every second another person will begin experiencing headache symptoms and one in ten experience the more severe symptoms that accompany a migraine. For men, headaches are in top 10 most disabling conditions, and for women they are top 5!
Seasonal allergies can be just as debilitating, effecting 30% of adults in North America.

With spring around the corner, fluctuations between warmer and cooler temperatures, drastic changes in barometric pressure, and dust & pollen release from newly blooming plants create the prefect conditions for headache and seasonal allergy symptoms to arise.
In this workshop, Bliss RMT Raluca will teach you specific self massage techniques as well as myofascial release, trigger points, and pressure point techniques to relieve barometric, tension, and sinus headaches. Bliss yoga teacher Jess Starrie will share her knowledge of essential oils and use of aromatherapy to help alleviate headaches and seasonal allergy symptoms.
---
Dates: Saturday April 7 & 14
Times: April 7 - 2:30pm-5:30pm, April 14 - 4pm-7pm
Guest Teacher: Corinne McNally
Cost: $130 for 2 sessions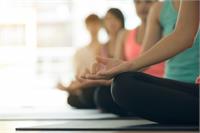 Hormone Yoga Therapy for Women, is a holistic and natural approach to ease or eliminate the adverse symptoms of hormonal imbalances. Whether the imbalances may be related to PMS, irregular cycles, fertility challenges, peri-menopause, menopause and more.
The glands responsible for hormone production are stimulated in HYT through Kundalini and Hatha yoga postures as well as Tibetan breathing techniques to create an internal massage and consciously direct the flow of energy.
In this two-part workshop you will learn techniques that you can continue on your own at home, and will receive a hand-out to support you in your home practice. The home practice takes about 30 minutes and will leave you feeling rejuvenated, and restored!
Hormone Yoga Therapy can alleviate symptoms of:
• Menopause and premature menopause
• PMS
• Infertility caused by hormonal imbalances or poor blood circulation in the pelvic area
• Polycystic ovaries
• Loss of menstruation and ovulation
• Ovarian cysts
• Low libido
• Osteopenia or early stages of osteoporosis
• Incontinence
• Under-active thyroid (hypothyroidism) causing depression, emotional instability and/or memory impairment
• Hypertension
• Hair loss, brittle nails, dry skin and acne
• Carpal tunnel syndrome
• Insomnia, low energy, fatigue
• And many other problems caused by hormonal imbalances
If you have experienced or are experiencing any of the below, please consult with you doctor before joining HYT classes:
• Breast cancer (hormone dependent, before or after surgery), after breast cancer surgery (not hormone dependent)
• Pregnancy
• Advanced endometriosis
• Psychiatric problems
• Hyperthyroidism
• Large myomas
• Nondiagnosed abdominal pain
• Recent heart surgery
• Appendicitis but did not have the appendix removed
• Serious osteoporosis (risk of fractures)
• Labyrinthitis (inflammation of the inner ear) – Vertigo
• Any recent surgeries
---
Teacher: Raluca
Date: Sunday April 8
Time: 1:30pm-3:30pm
Cost: $45+tax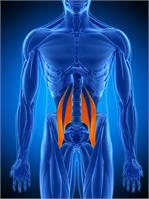 In Free Your Hip Flexors you will learn how the psoas or hip flexor muscles are one of the main reasons we experience low back pain, and how our repetitive movements, whether it be that you sit at a desk all day, or are active and like to run, jog, or cycle, dictate the resting length and quality of our hip flexors, which for most of us is short and tight. This tightness can radiate throughout the body, causing tension and strain through the soft tissues, which can eventually lead to chronic pain. Massage, physio, and chiropractic work may alleviate these symptoms temporarily, but until we take matters into our own hands and make it a daily practice, the symptoms will always return.
Join Bliss RMT Raluca for this 2-hour workshop, which is designed to empower you by gaining more insight about what is happening in your own body, and give you tools to begin to restore balance so to live in comfort and freedom. With the focus on the hip flexor or psoas muscles, you will learn trigger points, self massage techniques, gentle stretches and yoga postures, so to retrain your body and your brain to improve your posture and alleviate pain.
You will also receive a gift of 15% of a 30-minute targeted treatment massage with Raluca if booked on the day of the workshop.
This is a 2-hour workshop for $45+tax
---
Teacher: Bliss RMT Raluca
Date: Sunday April 15
Time: 1:30pm-3:30pm
Cost: $45+tax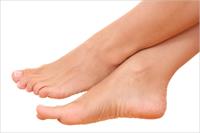 The foundation of our physical form is our feet. They carry us through each day, provide us with stability and help to keep us grounded. When our foundation becomes unstable, all that is standing upon it will also be affected, so the health of our feet is imperative to the healthy alignment of our whole body. Plantar Fasciitis is a common ailment that many of us suffer with. Caused by tightening and inflammation of the plantar fascia at the attachment to the heel bone due to repetitive high impact activities, a tight posterior chain (calf and hamstring muscles), high body mass index, or high or fallen arches.
Join Bliss RMT Raluca for this workshop where you will learn techniques to begin to alleviate some of the symptoms caused by plantar fasciitis, as well as how to prevent it from happening in the first place. Through self-massage, myofascial release, trigger point release, and specific stretches targeted at the muscles and fascial lines that can provoke plantar fasciitis, we can begin to restore the health and elasticity of the fascia in the feet so its distribution properties can be restored to contribute to the overall healthy alignment of the whole body.
This workshop is designed for people who are currently struggling with plantar fasciitis as well as those concerned with their foot health and are focused more on prevention.
This is a 2-hour workshop for $45+tax.
---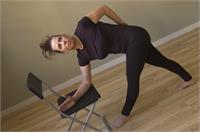 Teacher: Kat
Date: Saturday April 28
Time: 2:30pm-4:30pm
Cost: $45+tax
Spring into action this April by creating new and healthy movement strategies to promote health and balance!

Join movement master Kat for this 2-hour workshop, geared to take movement off the mat, and into your daily life by utilizing simple yet effective exercises. By adding small bits of movement to your everyday, science has proven, that this will promote a healthy, mobile and strong body. In our daily lives we tend to move unconsciously and habitually, which can lead to imbalances that potentially provoke physical pain and discomfort. We have many opportunities to insert "movement breaks" through out our day, and these small action intermissions will enhance posture awareness, reduce pain, improve mental focus and presence, spark a nervous system reset and a gift you with a renewed embodiment of confidence and self-care.

A great way to close out your Spring Fling & Self Care Challenge!!!

This 2-hour workshop is $45+tax.
---
4-Week Series
Teacher: Chrissy
Day: Thursdays
Time: 8:15pm-9:15pm
Starts April 5th and runs till May 3rd (there will be no class April 12)
Cost: $7/class or $28 for all 4
As women we tend to carry the weight of the world on our shoulders. Know that you are not alone, we see you.
We see the overwhelm as you try to find balance in your life. We see your tired eyes, and know your heavy heart. But we also see your strength. We see you standing tall. We see your beautiful softness as you give unending love and show up every day and do your best.
You've got this... and we are here to offer some support.
Join Chrissy for our new Blissful Mamas 4-week yoga program, where you will enjoy indulging in some self care through a practice designed just for you. A combination of slow, feel good movement and flow, mindfulness & meditation, poses that inspire restoration in both body and mind, as well as the healing practice of yoga nidra. Reconnect to yourself and learn how these practices can help you re-fill your cup, gifting you with presence and empowerment. Bring an open heart, a yoga mat, and a journal.
---
Pre-Registered Classes
Please Note: These are prepaid and registered program with a pre-determined schedule with a limited number of participants. Please ensure that you are familiar with the dates of the program. Absent reminders for failure to attend may be issued for this pre registered program, however no penalty or credit will be applied for missed sessions.
---
Wednesdays with Harmony
Date: Date: 25/02/2018 - 08/04/2018
From: 5:30pm-6: 45pm
Sundays with Lindsay S.
Date: 21/02/2018 - 28/03/2018
From: 4:45pm-6pm

This registered class offers expectant mothers the opportunity to discover how yoga can support them through their pregnancy, in a supportive and comfortable environment with our specially trained teachers. Mothers will be guided through gentle yoga postures, breath work, visualization and meditation to help calm the mind and support the body through all the changes that accompany pregnancy, while deepening the connection with the little life growing within.

This class is designed to support all trimesters and stages of pregnancy and no previous yoga experience is required.

Join us for this six week journey for $140+gst. Space is very limited for this class so ensure your spot by registering early online, in the studio, or call us at 780-432-1535.
Payment must be made at the time of registration to secure your spot in the class.
*Note that no registered classes will run on long weekends.
---
Mondays with Lindsay S.
Date: Mondays
Date: 26/02/2018 - 09/04/2018
From: 5:30 pm - 6:45 pm
If you are brand new to yoga, or have been practicing for some time but feel the need to reintegrate the important foundational aspects of the practice, then this class is the perfect class for you. Focusing on alignment, foundation and simple breath techniques, this class will guide students to a deeper understanding of the practice as a whole, while also working progressively so as to prepare each participant for other classes that are offered at Bliss.

What's great about taking a registered course is that throughout the duration of the 6 weeks the teacher will have the opportunity to create a greater connection with each student to offer individual support, and guide them with personal modifications that can be used for future yoga classes.

Join us for this 6-week journey for $108+gst. Register in studio, online, or call us at 780-432-1535.
Payment must be made at the time of registration to secure your spot in the class.
*Note that no registered classes will run on long weekends.
---
Sundays
Date: Date: 25/02/2018 - 08/04/2018
From: 1:00 pm - 2:15 pm

What makes Therapeutic Movement unique is the adaptation of yoga postures, which are practiced in a way to enhance the rejuvenation process while deeply connecting with the self and the body as it heals. This Therapeutic Yoga class is designed to give bodies the opportunity to restore, repair, and recover in an intimate and fully supported environment, receiving personal modifications and adjustments by one of our specially trained therapeutic yoga teachers. In these classes we adopt an attitude of 'less is more' and learn simple yet specific postures and movements that require just enough effort to strengthen and create stability to the areas of recovery, while cultivating kindness to leave room for the inner workings of our own wisdom body to begin to move into a state of healing. These exercises assist in not only rehabilitating the body, but also in nourishing and connecting the heart and the mind, which allows us to settle into a state of acceptance and allowance, adjusting our attitude towards our present condition and becoming self-invested in our own healing.

Therapeutic Movement classes can assist in the therapy and healing of:
Arthritis
Back Pain
Frozen Shoulder, Shoulder Pain
Chronic Rotator Cuff Injury
Herniated Discs
Sciatica
Repetitive Strain Injury
Neck Pain
Sacro-Iliac Joint Dysfunction
Iliotibial Band Syndrome
Post Knee Replacement
Plantar Fasciitis
Tension Headaches
Motor Vehicle Accident
Pelvic Floor Stabilization
Scoliosis
Fibromyalgia/Chronic Fatigue

Join us for this 6-week journey for $135+gst. Register in studio, online, or call us at 780-432-1535.
Payment must be made at the time of registration to secure your spot in the class.
---
Sundays
Date: 25/02/2018 - 08/04/2018
From: 2:30 pm - 3:30 pm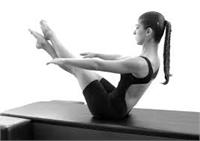 Pilates is a practice based on deliberate breath with deep core connection and spinal integration. The Pilates Method uses specific exercises to strengthen, train, and heal the body through intentional movements, which challenge balance, coordination, endurance and control. The precision and rhythm within this class requires an immense amount of focus and concentration, and the breath is an essential component to support this principle. We breathe with the intention to move. This 6 week session will be progressive, focusing on foundation for the first 2 weeks and then advancing the movement in the following classes. Great for both those brand new to the Pilates method, and for practitioners with previous Pilates experience.

Join us for this 6-week journey for $108+gst. Register in studio, online, or call us at 780-432-1535.
Payment must be made at the time of registration to secure your spot in the class.
*Note that no registered classes will run on long weekends.
---
Sundays
Date: 25/02/2018 - 08/04/2018
From: 3:45 pm - 4:30 pm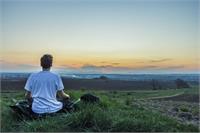 In this 6 week registered course you will learn several techniques to calm and quiet the mind, while also gaining tools to begin to invite more mindfulness into your everyday life. Whether you are new to meditation or already have a steady practice, this class will allow for progressive growth in a fully supportive and safe environment.

Join us for this 6-week journey for $108+gst. Register in studio, online, or call us at 780-432-1535.
Payment must be made at the time of registration to secure your spot in the class.
---
Yoga Nidra: Our Deepest Intention with Sheena
Tuesdays
Date: 27/02/2018 - 03/04/2018
From: 7:00 pm - 8:00 pm
Yoga Nidra is a practice of guided meditation where the body is in a completely relaxed state, supported by bolsters, pillows and blankets, while the mind remains awake to explore different states of consciousness.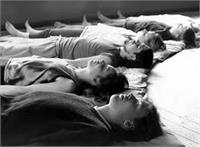 Some of the benefits of this practice include:
• deep relaxation
• stimulates physical & mental rejuvenation
• increases inner strength & personal power
• clearing of unconscious belief patterns
• shifts in limited thinking
• awakening of creativity
• counteracts stress

Please wear comfortable clothing and bring a pillow and a journal.
---