Couple's Massage

With everyday stresses that couples face they actually spend very little time together where they are relaxing and letting go of the everyday pressures of life. Having a couples massage can be an opportunity to do just that.
Massage decreases stress hormones such as cortisol and increases endorphins such as serotonin and dopamine which are the body's natural feel good chemicals. Having massages side by side and experiencing the feeling of happiness together can strengthen bonds and renew intimacy between two people.
Please call to book your Couple's Massage for Valentine's Day on Thursday, Friday or Saturday. These cannot be booked online!
Valentine's Partner Acro Yoga Workshop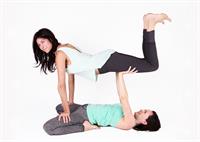 If you are looking for a unique, fun way to celebrate Valentine's Day this year, join us for this Acroyoga workshop, a unique style of yoga that blends yoga, acrobatics and therapeutics. There are three roles in Acro: base, flier and spotter, so partners will work together while the teacher and other students step into to spot when needed. Each student will have the opportunity to experience all three!
Join Amethyst for this two hour workshop to explore fun partner exercises and beginner acroyoga poses. Come with your partner to have a fun Valentine's Day experience! This workshop is $45/person. Book here!
Couple's Facial or Pedicure

What's better than spending time together AND taking care of your skin. We have openings for facials and pedicures for you and your sweetheart! Call early to book, and make sure you leave time for some champagne in the caldarium!
Call to book your spa appointments!