BOTOX®/DYSPORT® Treatments
CALL OR VISIT OUR EDMONTON SPA TO LEARN MORE ABOUT BOTOX
Due to Canadian rules on advertising no site can mention the benefits of a drug, like BOTOX®. Failure to comply with these regulations will result in disciplinary actions from the College of Physicians and Surgeons of Alberta.
For more information on Botox®, see http://www.botoxcosmetic.ca/getting-started/
Restylane®, Revanesse® Fillers
What are Fillers and how do they work?
As we age, the natural collagen and elastin in the skin lessens, as cells lose their ability to produce more of their youthful component. The skin becomes dryer, thinner and less able to fix itself. When we are born, we have plentiful amounts of Hyaluronic Acid (HA) in our body, but as we get older this store of HA diminishes, leaving the skin less well supported, and so lines and wrinkles develop. By lifting and smoothing targeted folds and wrinkles by adding subtle volume, dermal fillers can make a difference to a person's appearance, giving them a fresher look.
The treatment of wrinkles with dermal filler will usually involve injecting this naturally occurring product (HA) through a tiny needle. The discomfort is minimal as the treatment does not take long to perform. The aesthetic outcomes of treatments with dermal filler are seen immediately after the treatment. Treating wrinkles with dermal filler is fast, leaving no scars.
What does the treatment involve?
The procedure takes around 30-45 minutes and patients can expect to notice the effects for as long as 18 months after treatment. There is even precedence of results lasting up to 24 months in some cases, however, treatment with fillers is completely reversible. With any injectable treatment, there can be some slight bruising or swelling that accompanies it. This should not persist much longer than a day, and is easily coverable with makeup.
Who would this treatment suit?
Facial fillers can be used on a wide range of patients, and are primarily used for skin rejuvenation and the reduction of lines and wrinkles. Other suitable candidates are those seeking to add structure and volume to the face. I see a lot of patients who have lost volume in their face due to living a very active, high impact lifestyle (such as runners). Fillers help to restore the volume loss that naturally begins to occur when we reach our late thirties, and in turn gives a fresher, brighter appearance.
Who should avoid this treatment?
There is no known risk to those who are pregnant or breastfeeding, but we would advise against having treatment under these circumstances.
What results does the treatment aim to provide?
The results should be subtle, leaving our friends and family believing that we are simply looking our best and great for our years. Treatment lasts between 18-24 months but, naturally, towards the end of this period the effects begin to gradually soften, so there is no dramatic change. When the effects begin to soften, we aim to 'top up' the treatment.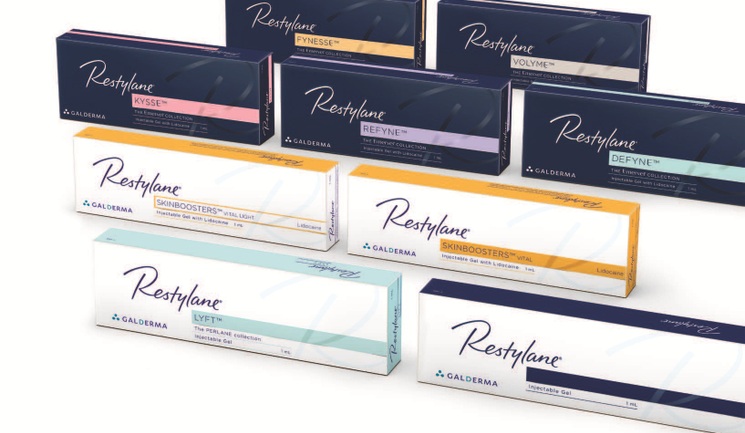 Restylane® Skinboosters™

What are Restylane Skinboosters™?
As the name implies, Restylane Skinboosters™, otherwise known as Restylane Vital and Restylane Vital Light is a system of microinjection in the skin designed to create hydration, increases elasticity and firmness and smoothening of the surface of the skin.
What are the indications?
SkinBooster injections are designed to enhance the surface of the skin by increasing the hyaluronic acid in the area injected. The result is a smoother, more radiant looking skin. In Europe, this skin hydrating renewal injection system is used on multiple body areas including the face, chest, neck, arms and legs. In Canada, this product is approved for the face, the neck and the back of the hands to enhance the crepiness of the skin's surface.
What is the protocol?
The protocol consists of a series of treatments, usually 3 sessions, a month apart.
It consists of a series of micro punctures in the mid dermis. It is not filler, and is not designed as a volumizing product.
A follow up session or Booster session is usually required in 6 -9 months.
Is there down time?
Since this is a series of micro punctures, you can expect some bruising after the treatments.
There could be some swelling at the injections points. These usually resolve within a week.
The result is a "boost"of the skin's glow, hydration, and overall integrity of the skin's surface.
A $100 deposit will be collected by our Bliss Ambassador at the time of booking. The deposit will be applied to the balance at the time of the service or transferred to a rescheduled appointment within the cancellation window.
Deposits are non refundable in the event of cancellation within 24 hours of scheduled appointment or failure to show for scheduled appointment.