Outside of our drop-in schedule, we are offering a variety of one-day workshops as well as pre-registered classes available over several weeks. Please call (780) 432-1535 to sign up or come on in and talk to one of our ambassadors. NEW - Sign up Online!
---
---
~Revolutionize Your Yoga Practice~
Throughout our yoga journey we experience challenges and triumphs, frustration and excitement, a releasing of outdated habits and a new understanding of our body, mind and spirit. As we learn, grow and evolve we are often faced with moments of curiosity, a need to go deeper physically or a longing to gain more knowledge. The yoga team at Bliss recognizes this and sees the need to provide a platform for our dedicated students to expand their knowledge and practice, to care and nurture their body and mind, and to harness balance both on and off the mat. We are so excited to present our new Bliss Workshop Series, which will run every Saturday afternoon starting in September.
This is a 4-week cycled series, which emphasizes the 4 pillars that support integrity and growth in our practice.
Establish
Expand
Balance
Nurture
As we Establish our practice, we set up a strong foundation through fundamental principals such as breath work, safe body alignment, basic yoga postures (which are the blueprint for our more advanced poses), and mental focus. On the first Saturday of each month we will strengthen our foundation through our Yoga Fundamentals Workshop. This is a 2-hour workshop where we will cover all these aspects of the practice, and give you an introduction to the classes that are offered at Bliss, as well as a few options for the next step in your yoga journey. Know that this workshop is not only for those new to the practice but is a great way for seasoned practitioners to remind themselves of the essential foundations of yoga, something we should all do from time to time. These workshops will have a very similar format, but will be taught by different teachers each month, so your experience and learning will be different each time you attend.
Our Expand series is for those students who are looking for that next challenge. Whether you are yearning to know more about advanced pranayama techniques, or are ready to start working on your headstand, or finally find balance in Crow pose, these workshops will support you in that growth. Expect to see Inversion and Hand Balancing workshops, the art of Back Bending safely for potent physical and energetic shifts, Acroyoga, the Ashtanga series, Rocket Yoga, and more! If you have a specific focus that you would like to go deeper in, please let us know and we will consider adding it into the rotation.
Balance is a key aspect to living a healthy and harmonious life, and nature (your body included) is continuously striving to find that balanced state. When we get caught in the spin of the hamster wheel that is life, which often includes long "to do" lists, busy schedules, and times of overwhelm and stress, we tend to focus on only that which is physical. In these busy and stressful states the relationship to the other aspects of who we are suffers, perpetuating our imbalance. The workshop offerings in our Balance series will bring in alternate concepts to highlight the elements of us that are beyond the physical so to guide us back into a state of equilibrium with ease. Through Yoga Philosophy we can gain more knowledge and therefore connect an understanding to our experience. We will explore different senses through Aromatherapy or Wine Tasting. Become more connected to the energy that fuels our physical experience through the Chakras, Pranayama or Kundalini. And gain tools to harmonize the mind through Mindfulness, Mantra, or Meditation. Through Balance, we cultivate a deeper sense of integrity and wholeness.
The Bliss Nurture series is all about you! Self-care is becoming a more common practice as we recognize the need to unwind and truly rest the body and the mind so that we can continue to thrive in life. The ancient yogis along with the teachers of today that now have the research of modern science to back their teachings, describe the importance of a regular restorative practice. Research in science has shown that living in a stress state leads to chronic pain, illness and disease, and we now realize how vital rest and recovery are in our ability to be mentally sharp, physically healthy, as well as more patient, compassionate and kind with ourselves and with others. In this series we will be offering Yin and Massage, Yoga Nidra, Restorative Yoga and Reiki, Sound Healing Journeys, and more! Offering yourself one day a month to truly rest and receive in a pure state of being, so to counterbalance all of the "doing" is such a small and absolutely worthy commitment. And above everything else, simply, you deserve it!!
---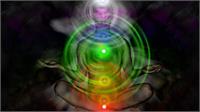 Teachers: Lindsey P & Jess Starrie
Date: Saturday February 23
Time: 1:30pm-4pm
Cost: $55+tax
Underneath our physical body there is the subtle yet powerful realm of the energy body. This subtle layer includes our DNA, genetic code, nadis, meridians, and the chakras. There are 7 primary chakras which act like energy vortices, receiving, assimilating and transmuting prana, or life force energy, which is then felt and expressed through our body, our mind and our emotions. Each centre has its own characteristics and attributes, and when out of balance we may experience ill health, confusion, anxiety, depression or dis-ease. When in balance we experience vitality, freedom, confidence, compassion, truth, and clarity. We deepen our relationship to our self, our people and our spirit.
In this workshop you will experience each chakra through the senses. We will explore each centre through sound, smell-with specific essential oils that stimulate each chakra, visualization and tactile sensation by way of yoga asana (posture). When we explore the chakra system in this way we are often shown which centres are open and balanced, and which ones are diminished or out of balance.
Join Lindsey and Jess for this Sensory Chakra Experience, learn more about each centre, gain insight to your own chakra system and where imbalances may be present, and receive easy to work with practices to take home with you to inspire more balance in your body and your life.
This is a 2.5 hour workshop for $55+tax.
We will practice in our Classic 23 degree environment, please dress comfortably and bring water, and we will provide all the props needed. You may also want to bring a journal and a pen, but worksheets will be provided.
---
Teacher: April
Date: Saturday March 2
Time: 1:30pm-3:30pm
Cost: $40
The Bliss Fundamentals Yoga Workshop supports us in Establishing strong foundation for our practice. Working with elemental principals such as essential breath work, safe body alignment, the basic shape of primary yoga postures, as well as the names of these postures so to feel confident when attending public classes. We will cover all these aspects of the practice, and give you an introduction to the classes that are offered at Bliss, as well as a few options for the next step in your yoga journey.

Our Yoga Fundamentals Workshop is recommended for all those brand new to yoga, or for those new to Bliss who may have some previous yoga experience. This is also a great workshop for the seasoned practitioner so to be reminded of the foundations of the practice, something we should all do from time to time. These workshops will have a very similar format, but will be taught by a different teacher each week, so your experience and learning will be different each time you attend.

Please bring a yoga mat and water. Wear comfortable clothes that are easy to move in, and dress in layers, warmer for the seated portions and cooler for the movement portion.

This is a 2-hour workshop for $40, and includes a coupon for 25% off of our introductory yoga package so to support you as you move forward in your practice. We look forward to seeing you on your mat!!
---
Teacher: Sheena
Date: Saturday March 16
Time: 1:30pm-3:30pm
Cost: $45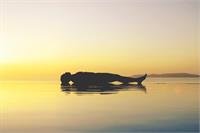 Through the many threads and powerful teachings of Yoga, there are a handful which are designed to work on cellular/energetic levels primarily to align with Radiant Health from the inside out. In this workshop we'll use both classical Kundalini techniques along with techniques from the Katonah lineage to create clear channels of communication for the energy body, inviting a blissfull 'hum' of harmony through the endocrine system as we tone and regulate the body's chemistry. Moving from the energy body creates a grid which then informs the physical, mental/emotional bodies to follow along.
Bathe in the symphony of inner alignment as you are guided into the deeply restoring practice of Yoga Nidra where, each layer of instruction invites you to explore greater depths within. As you connect to your own wisdom, space is available for you to listen to what's next, what's now or what simply is arising from the great well within.
Modifications will be given for all levels. Please bring a pillow, pen & journal and wear comfortable clothing.
This 2-hour workshop is $45+gst.
---
Teacher: Lindsey
Date: Saturday March 9
Time: 1:30pm-3:30pm
Cost: Minimum Donation of $20
The traditional practice 108 Sun Salutations is one of commitment, mental fortitude, community and empowerment, and this fundraiser is the perfect reason to roll out your mat and get moving!!
Yoga Stops Traffic has been doing the honourable work of fighting against human trafficking since 2010, and Bliss YogaSpa is the first studio in Alberta to participate to support this worthy cause.

You can embark on this journey solo, or build a team of 2 and split the work so each person does 54 Sun Salutations. Either way you will be cheered on and supported by the guiding teacher as well as from the Bliss community moving and breathing together.

It is a minimum donation of $20 per person to attend, but we encourage all participants to try to raise more money for their work. The participant who raises the most money will win a prize!
If you cannot participate but would still like to support Yoga Stops Traffic, additional donations can be made at www.yogastopstraffick.org
---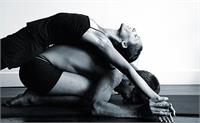 Teacher: Sheena
Date: Saturday March 23
Time: 1:30pm-3:30pm
Cost: $45/person
Touch elevates our emotions, relieves stress and is great for overall health. In this fun and connective 2 hour workshop, you and your partner will learn and explore yoga postures designed for 2 people to practice together, as well as adjustments and touch that will help to release muscular tension and balance the nervous system.
We will also explore non-verbal communication techniques, partner meditations, aroma therapy and massage.
This workshop is $45 per person and will be practiced in our Classic 23 degree environment. Please dress comfortably in easy to move in clothing, bring water and your yoga mat.
---
Teacher: Kelly
Date: Saturday March 30
Time: 1:30pm-4pm
Cost: $55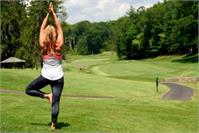 Join Kelly for this workshop that is designed specifically for golfers! Yoga postures that will increase range of motion and strength in the areas need to have a free and powerful golf swing, as well as myofascial release, breathing and mental conditioning through meditation techniques. There will also be a number of suggested stretches and exercises that you can incorporate into your pre-game routine to optimize your golfing experience and potentially your score!
Increase flexibility and therefore range of motion
Improve your posture, the foundation of the golf swing
Improve your breathing and focus to enhance overall performance
Learn a dynamic warm-up so you play your best right from the first tee
Gain mental focus and clarity through meditation
Extend your body's ability to play so you can play better, longer and with more confidence and increased enjoyment
This is a 2.5 hour workshop for $55, practiced in our Classic room temperature environment. Please dress in easy to move in active wear as opposed to golf wear, and bring 1 club with you as well as a yoga mat and water.
---
---
Please click on the drop-down menu for a list of the current running registered classes.
Please Note: These are prepaid and registered program with a pre-determined schedule with a limited number of participants. Please ensure that you are familiar with the dates of the program. Absent reminders for failure to attend may be issued for this pre registered program, however no penalty or credit will be applied for missed sessions.