Outside of our drop-in schedule, we are offering a variety of one-day workshops as well as pre-registered classes available over several weeks. Please call (780) 432-1535 to sign up or come on in and talk to one of our ambassadors. NEW - Sign up Online!
---
---
Teacher: Allison
Date: Saturday June 8
Time: 2:00 pm - 4:00 pm
How to Headstand will dive deep into the mechanics of sirsasana, or headstand pose, so to create a better understanding of the alignment and strength required to practice and sustain this fun and invigorating inversion.

This stimulating asana is considered the king of yoga postures and inverting the body offers us many physical benefits, while also flipping our perspective, which can shift mind patterns, and ignite excitement for both the physical and energetic body.

If you have never tried headstand before, this workshop will offer the building blocks necessary to safely and effectively work towards the pose. Looking at the proper muscle recruitment, as well what needs to be open to get into the posture with ease.

Preparatory poses, modifications, and even safe ways to fall out of the pose will all be covered, so to slowly build up the strength and courage to one day successfully come up into the full pose. And maybe your day will be today!!

The workshop will close with some restorative postures, a long savasana and grounding meditation, exploring self inquiry and dynamic stillness.

This is a 2-hour workshop practiced in our Classic room temperature environment for $55+tax. Please dress in active wear, bring a yoga mat, and water. No headstand experience necessary!
---
Tearcher: Lindsey P
Date: Saturday, June 15
Time: 2:00 pm - 4:00 pm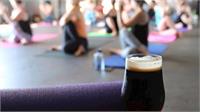 This Father's Day weekend we are partnering up with Town Square Brewing Co. to offer Yoga on Tap!
We'll start with a 75-minute Warm Yin practice followed by some munchies and a craft beer tasting courtesy of Town Square Brewing in the Bliss Yoga Lounge.

This yoga and beer celebration is a great gift for dad!! But please note that everyone is welcome, especially if you love yoga and of course beer!! Even if you are not a dad.
This workshop is $55+tax and will be practiced in our Ambient temperature of 28 degrees. Please dress comfortably and temperature appropriate, bring a yoga mat, water and a towel.
---
Please click on the drop-down menu for a list of the current running registered classes.
Please Note: These are prepaid and registered program with a pre-determined schedule with a limited number of participants. Please ensure that you are familiar with the dates of the program. Absent reminders for failure to attend may be issued for this pre registered program, however no penalty or credit will be applied for missed sessions.